Subscribe to Our Newsletter:
Weather Conditions
Temperature:
18.7°C
Feels like:
18.7°C
Dew point:
14.2°C
Relative humidity:
75%
Wind:
S at 26 km/h, gusting to 31 km/h
Rain:
0.0mm since 9am
Pressure:
1021.5 hPa
Hospitality Services
The Cruising Yacht Club of WA Inc are proud to have their Val Street Clubhouse situated beachside on the Rockingham Foreshore Cafe Strip.
The Club House boasts a comfortable Members Lounge for casual drinks, dining, entertainment and events, and a unique north facing beachside beer garden which is perfect in summer for watching racing, or just watching the world go by.
Also at the Club House is the Burgee Function Room with north facing beachside balcony, private bar, and dedicated kitchen, which makes this the perfect venue for your special occasion or our fine dining events.
With friendly staff and members, great food, drinks and entertainment we are sure you will feel warm and welcome at The Cruising Yacht Club of WA Inc.
Bar Hours
Monday - Closed
Tuesday - 4pm to 8pm
Wednesday - 4pm to 8pm
Thursday - 4pm to 10pm
Friday - 4pm to 10pm
Saturday - 11am to 8pm
Sunday - 12pm to 8pm
Kitchen
Wednesday - 5:30pm to 7:00pm - Schnitzel Night
Thursday - 5:30pm to 8:30pm - Quiz Night
Friday - 5:30pm to 8:30pm - Fridy Club A La Carte
Saturday - 11:30am to 2:30pm - BBQ Menu & 4:30pm to 7:00pm - Weekend Menu
Sunday - 12:00pm to 2:30pm & 4:30pm to 7:00pm - Weekend Menu


Please Note: Bookings are highly suggested for galley service to avoid disappointment
Quiz Night
Don't miss out on our hugely fun and successful quiz night every Thursday from 5pm.
Ranging from general trivia, to music, and even themed question nights Thursday nights are an absolute hit with members and guests.
Offering a limited 5 item menu each week members can get a meal from as little as $12 and have the chance to win great fun prizes every week.
Call 08 9527 5468 to register your interest today.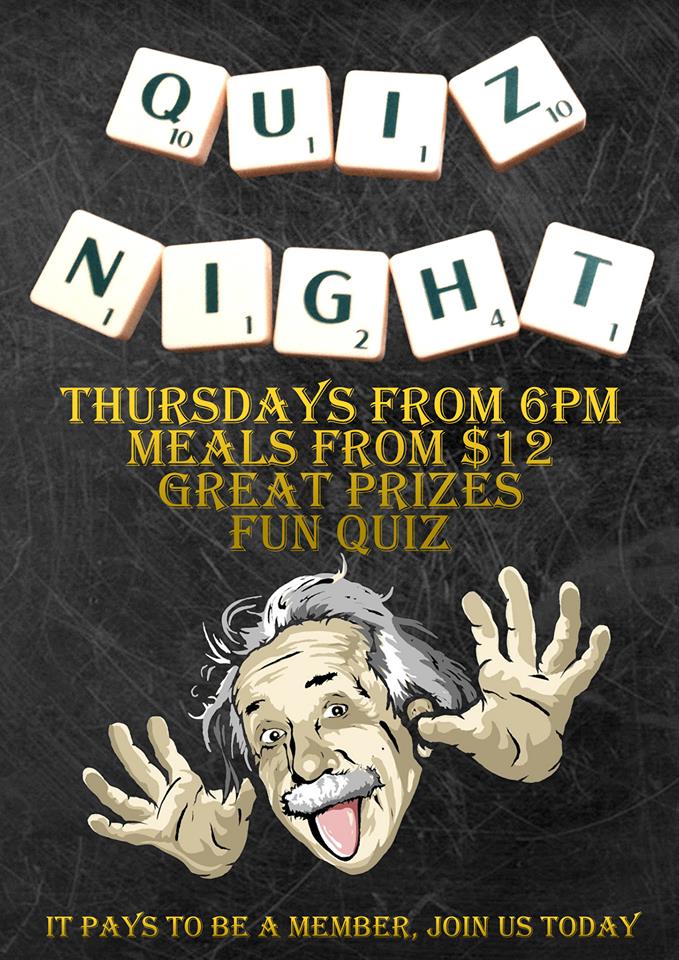 Friday Club
Originally named the 'Friday Club', The Cruising Yacht Club of WA Inc had it's humble beginnings as a Friday gathering way back in the late 1950s, and the tradition of Friday Club nights has continued ever since.
Friday is the club's busiest regular night of the week, with meat raffles, free members draw prizes, live entertainment, a la carte menu and themed nights once a month it is a great night to visit the club and enjoy the club atmosphere The Cruising Yacht Club of WA Inc is famous for.
Regular entertainment is provided by local artists Simon Vander and Mark Bradley; bring your dancing shoes and join the party.
Once again booking is strongly recommended to avoid disappointment, and if you book before 12 noon on a Friday you will receive a complimentary entree with your main meal purchase.
Call 08 9527 5468 to book for Friday Club now.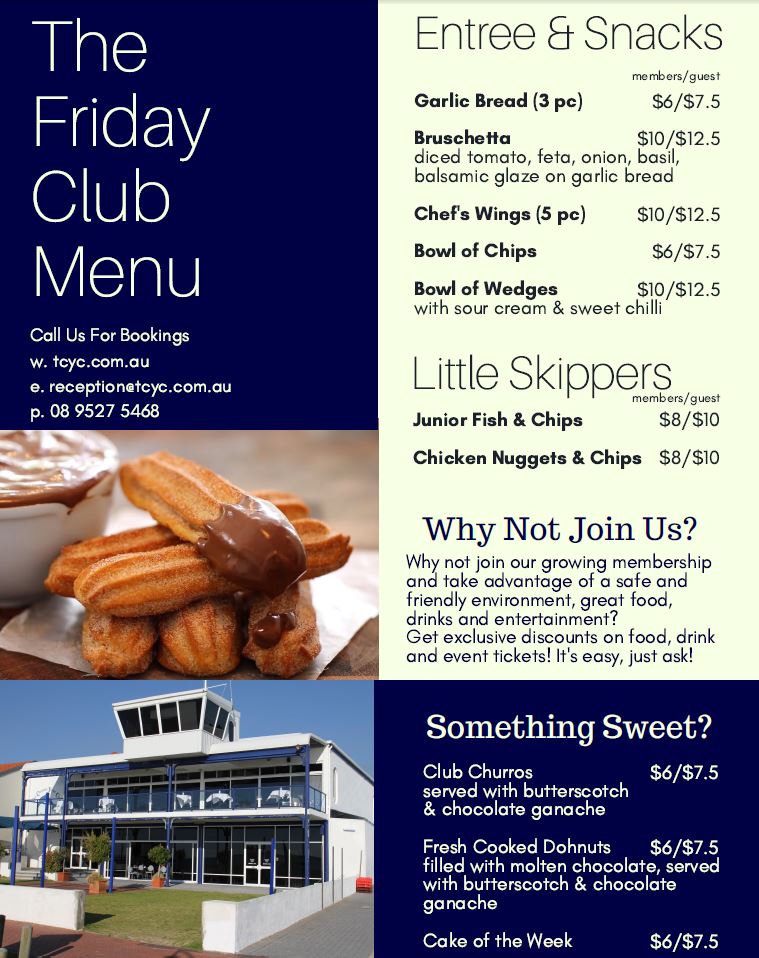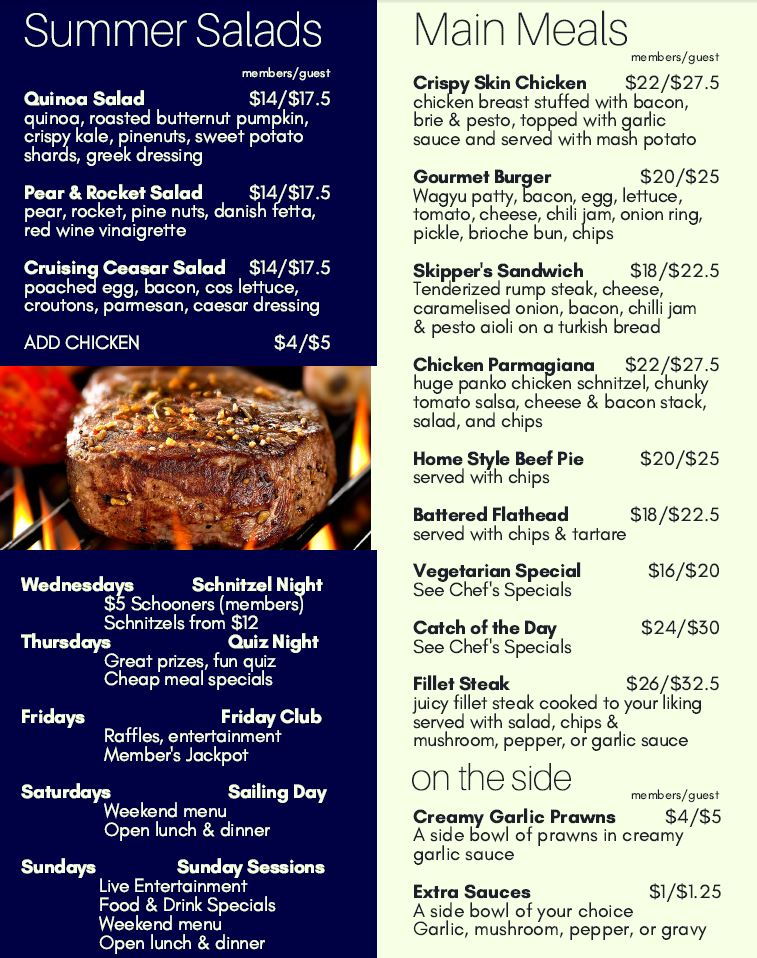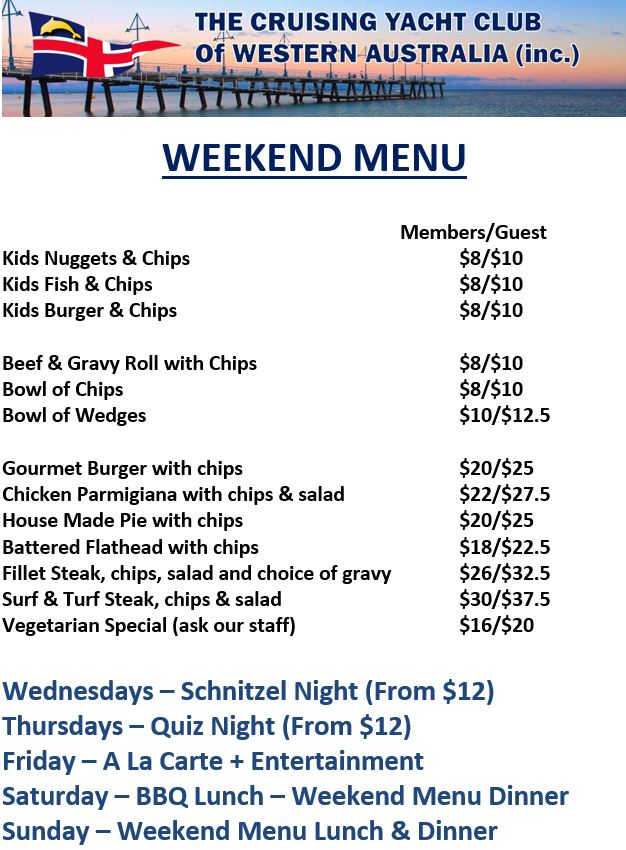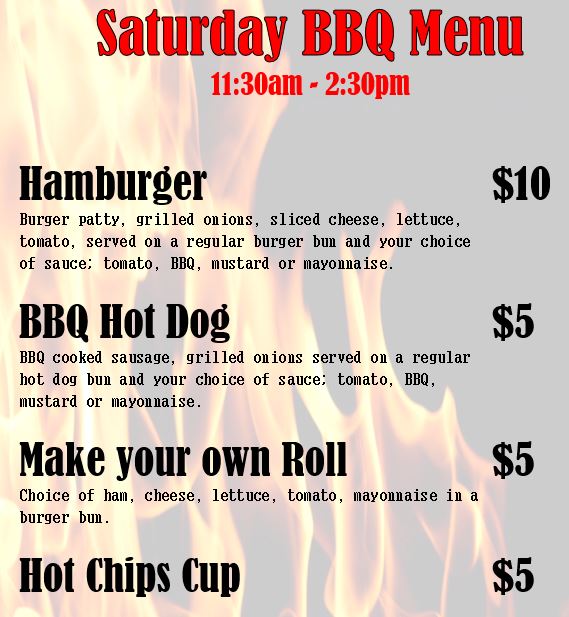 Sail & Stay
The Cruising Yacht Club of WA Inc has 40 moorings conveniently located available adjacent to the Val St Jetty.
Overnight mooring hire is just $30 for members of reciprocal insterstate clubs and you receive $15 of vouchers each day to spend at the club.
So why not sail down, enjoy our club hospitality services and stay for the evening?