Senior Sailing
Forms to be completed for sailing at TCYC

Forms are currently being updated for the 2017/18 season


Division 1
This division is for the bigger yachts racing at the club and includes various trailer sailers and sports boats. These include a Ross 780 and a Young 7.8 along with a couple of Runnalls 8s, an Etchell and a group of M27s plus a Clubman 8
The fleet is very competitive and a handicapping system ensures that all boats in the fleet, no matter how fast or slow, are given a chance of winning races.
Skippers are usually seasoned racers having come through the ranks of dinghies and smaller boats but they are always on the lookout for new recruits and new boats.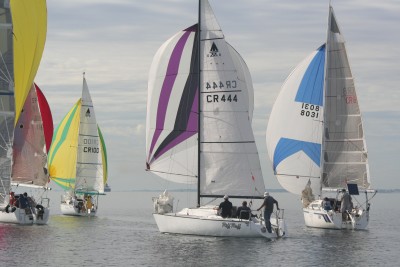 For more information, please contact the Division 1 representative, Colin Marks, on 0425 613 442
Division 3
Division 3 is a mixed fleet of boats mostly being trailer sailers than can be easily launched and retrieved from the water. However, a number of smaller keelboats also race and the racing is very keen.
Boats represented include Austral 24, Binks 25, Court 750, Holland 25, MB21, Noelex 25, RL 24, Wildfire and Swarbrick 26.
The handicapping system used by the club means that all boats have an even chance of winning races throughout the season. Corrected times often come down to a matter of seconds so skippers and crew keep racing right until they have crossed the finishing line.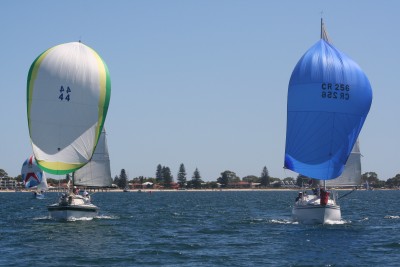 For more information, please contact the Division 3 representative, Colin Jones on 0422 154 449
Jib and Main (JAM)
The JAM fleet is ideal for skippers new to racing or those who don't want the problem of finding enough crew to fly spinnakers. The boats can vary greatly in terms of length and performance and they often start with Division 3 making for some close action on the first beat to windward.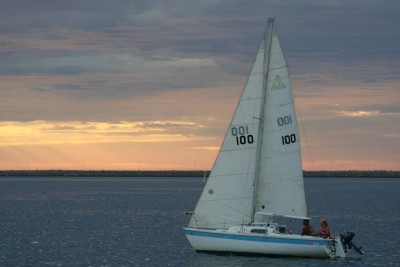 For more information please contact the JAM representative Barry Cameron on 0428 356 851
Macgregor
There are 8 of these boats at the club and something like 70 around the State so they are very popular.
No regular racing is conducted for them because the skippers are usually off cruising. However, the club puts on races for them at their request so if you are an owner and would like the club to organise an invitation race, please get in touch with Chris Smith on 0409 295 726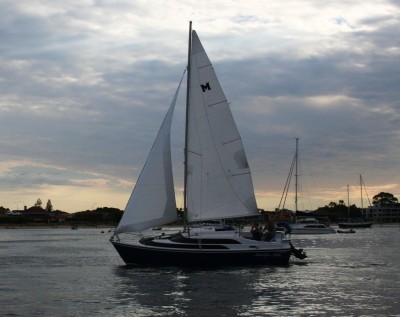 Flying Ant
A fleet of up to 13 of these pocket rockets regularly race from the club on a Saturday afternoon and they require a full set of skills to be able to sail them to their potential.
TCYC boasts the current National Champions in Dale Brett and Jayden Havelberg sailing Rhinochaser which is a huge accomplishment.
They sail in the afternoons having graduated from the biggest and most successful Junior Sailing Programme in the State. Many of our sailors have gone on to sail in bigger boats having obtained an excellent grounding in this class.
For more information, check out the Juniors section.
29er
Up to a dozen boats regularly make up this fleet. The boat is a strict one design international class aimed squarely at young sailors although we do have one sailor in his 60's mixing it with the best of them.
It is a smaller version of the Olympic 49er and 49erFX Classes
For more information, check out the Juniors section or Contact John Clements on 0424 021 134
Sabre
The Sabre is a one-design cat rigged dinghy for single handed sailors and it has captured the imagination of sailors of both genders aged from 12 to 80. It is less physically demanding than the Laser so appeals to those sailors more interested in tactics and strategy.
The growth in this fleet Australia wide has been phenomenal and we should have a competitive fleet this year. The Sabres will be visiting TCYC in early October each year and we can expect to see up to 25 visitors each time.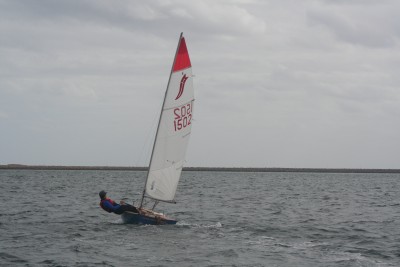 Yvonne
The Yvonne catamaran was originally designed by a father and son team in Charles and Lindsay Cunningham in 1954 and named after their daughter and sister. It has been raced around Mangles Bay for as long as anyone can remember and has truly stood the test of time.
The Yvonne was the first catamaran to use a spinnaker and the rig was updated in 2004 to include a larger asymmetrical kite. Still the nicest looking catamaran around it's no wonder that the Class retains a loyal group of sailors.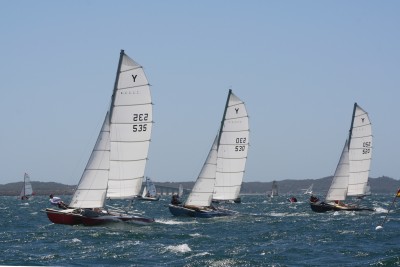 Yvonne Representative: Dave Randall 0418 926 554
For more information please contact Andre Kotze rearcommodoresail@tcyc.com.au
http://www.yvonne20.yachting.org.au/default.asp?Page=42162